Product Description
Monadnock State Park's content is directly from the Division of Parks and Recreation. All rights belong to them; we are just sharing this info.
169 Poole Road
Jaffrey, NH 03452
Phone: 603-532-8862
Activities and Amenities
Camping
Monadnock State Park is located in and around the 3,165-ft. Mount Monadnock. The park is surrounded by thousands of acres of protected highlands. In 1987, Mount Monadnock was designated a National Natural Landmark. The park offers year-round recreational opportunities.
Pets Prohibited

Pets are not permitted in the park. Please note that this law includes all trails and areas on Mount Monadnock that are within Monadnock State Park boundaries. See the NH State Parks Pets Policy for more information.
Make a Reservation
Visitors should make a reservation before arriving at the park as parking is limited (especially on nice weekends and holidays). Visitors who arrive without a reservation will be admitted on a first-come/first-serve basis. Space is limited and visitors will be turned away when the park is fully booked .
Reservations can be made prior to arrival and no later than 3pm on the day of your visit, though they often sell out a day or two before a weekend. Please plan ahead in the event the parking areas reach capacity. Visitors are not allowed to park elsewhere and walk into the park.

Reserve America Call Center: 1-877-647-2757
Parking Day Pass Fee: $15 + $1 transaction fee
($15 fee includes admission for 6 occupants in one vehicle)
A parking pass reservation to hike Monandnock guarantees a parking spot when your arrive at the park. Pick a trailhead button below to make a reservation.
MONADNOCK HQ RESERVATIONS
>169 Poole Rd (Access to main trails – White Dot and White Cross)
OLD TOLL ROAD RESERVATIONS
>9 Halfway House Rd (Access to White Arrow – no direct access to White Dot)
GILSON POND RESERVATIONS
>585 Dublin Rd (No access to White Dot or White Cross – 6 hour hike)
Which Trailhead Should You Choose?
Monadnock HQ: Main trails – Most direct route to the top.
Old Toll Road: Access to many side-trails and alternative destinations.
Gilson Pond: Longer hike for those more interested in solitude than in getting to the top.
See graphic below and the Monadnock Hiking Map for more help in choosing a trailhead.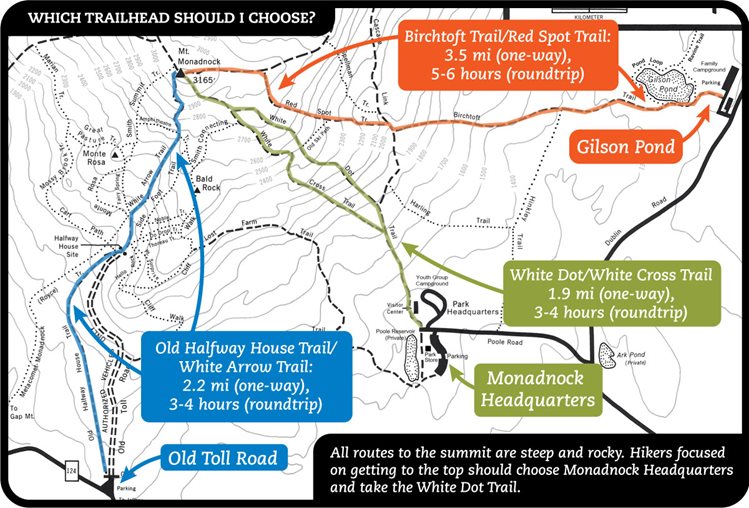 Operating Schedule
Fee
Park Schedule:
$15 per vehicle (see details below)
Park headquarters is staffed 7 days a week year-round with occasional exceptions for severe weather.

The Old Toll Road is staffed mid-April through mid-November 7 days a week depending on weather, and weekends-only in the winter.

The Gilson Pond Area is staffed during camping season (see Campground Operating Schedule), and some weekends in early spring and late Fall.
Off season use: All trailheads are always open for hiking unless closed or restricted by posting. During off hours and the off-season, trailheads are typically not staffed, comfort stations are not available and access roads may be impassible. The off-season poses unique risks inherent when participating in outdoor recreational activities. Recreationists should possess the necessary knowledge, skill, and equipment to ensure their own safety. Users assume all risk while recreating in State Park lands.
If a trailhead is unstaffed, an Iron Ranger is always available for required day-use fees.
Hikers interested in finding out what the conditions are prior to heading out can call the park directly at (603) 532-8862.
Fees
$15 per vehicle, plus a $1 transaction fee for advanced reservations. Passes are available same-day at the park only if they are not already sold out.
"Parking Passes" and "Day-use reservations" are the same thing. You do not need 2 separate passes
Camping fees (see below) include day-use of the park.
Camping at Monadnock
Our campground operating schedule is as follows (dates approximate, weather dependent):
Opening May 6, 2022 (primitive camping available April 8)
Monadnock HQ: youth group camping only, reservations made through call center only.
Gilson Pond Campground: all family camping, reservations made online or through call center.
RESERVE CAMPSITE AT GILSON POND
Winter, November 1st – April 30th:
Monadnock HQ: all sites allow for family camping, reservations can be made online or via call center. Youth group camping is available, reservations made via call center only.
Gilson Pond: closed for winter.
RESERVE CAMPSITE AT MONADNOCK HQ
Reserve America Call Center: 1-877-647-2757
Out of state firewood is prohibited, but firewood is available to purchase at the park. Camping is only allowed in designated campsites. Camping on the mountain is against state law.
Camping Rate Per Night
Summer:
$25 (no hook-ups), $35 (w/ electric)
Winter:
$25 (no hook-ups only)
Gilson Pond Campground Map | Gilson Pond Campground Information/Policies
Gilson Pond Remote Campground Map | Gilson Pond Remote Campground Information/Policies
Monadnock Youth Group Campground Map | Monadnock Youth Group Campground Information/Policies
Pavilion Rental
For information on this parks pavilion rental please visit NH State Parks : Welcome.
Notice: Drone Use is Restricted

Drone use is restricted at all NH State Park. Drone operators are not permitted take off or land within NH State Park boundaries.
Monadnock Webcam
Click here to view a live webcam of Mt Monadnock
(viewed from Franklin Pierce University in Rindge, NH).
Keep in mind that the real-time weather readings on the bottom of the cam are being fed by the Silver Ranch Airport in Jaffrey, which is about 6-7 miles away from the base of the mountain. The weather readings do not apply to current conditions on Mt. Monadnock!!